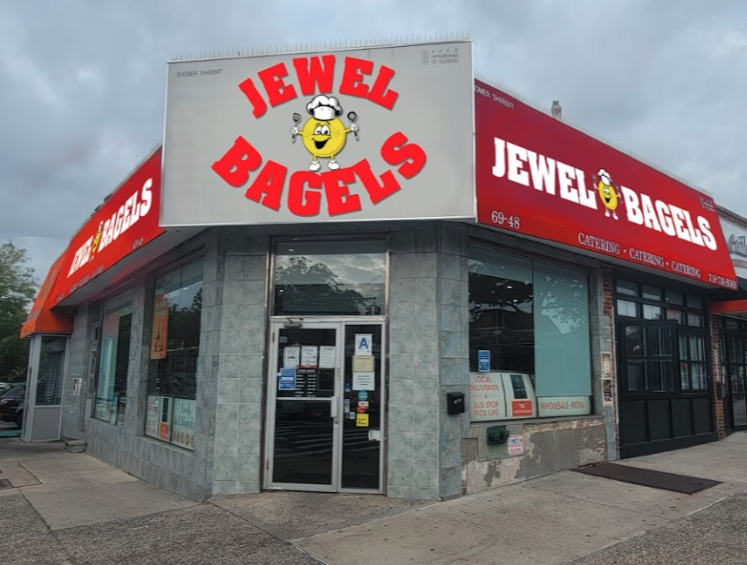 Jewel Bagels is a traditional kosher bagel shop supervised and certified by Vaad Harabonim of Queens (VHQ). Made fresh daily, our bagels are old-fashioned hand-rolled water bagels.
Jewel Bagels is owned and operated by residents of Kew Gardens Hills in Flushing, NY. We are dedicated to providing quality kosher food and excellent customer service to all of our neighbors.
In addition to bagels, we offer breakfast, lunch, coffee, juices, smoothies, sandwiches, wraps, panini, baked goods, soft drinks, and more.
CATERING is available for all occasions. CALL US for your next private or corporate event – no order too big or small.
Order online from our website or mobile app for delivery, pickup, and curbside.

"Really glad I found this place! They have the best breakfasts. Everything is always fresh when I'm there. The service is AMAZING."
Gabriel G. (Google)

"This is the best bagel shop in town.. great price, amazing service, very clean, and most of all very delicious. Highly recommend. "
Michael A. (Google)

"Very good food and good prices. Friendly staff. We enjoyed it so much that we returned with the whole crew then next morning."
Garry L. (Google)

"Best kosher bagels on Main St.! Fast and friendly service too. Nothing better than a  fresh bagel with a schmear!."
Charles H. (Yelp)
Fresh Bagels
Our bagels are old-fashioned hand-rolled water bagels made fresh daily.
All Kosher
We are supervised and certified by Vaad Harabonim of Queens (VHQ). All dairy products Cholov Yisroel.
Breakfast
Breakfast sandwiches, omelets, pancakes, wraps, coffee beverages & fresh juices.
Lunch
Sandwiches, Wraps, Panini, Salads, Smoothies, French Fires, Baked Goods and More.
Fresh Juices
Freshly squeezed juices from a variety of whole fruits including orange, apples and wheatgrass.
Catering
Kosher Catering For All Occasions We provide everything you need for family gatherings, private parties, and corporate events.